Wave your hands in the air and wave em like you just don't care and if you like fish and grits and all that pimp shi everybody let me here ya say oh yea-er as I bob my head to one of my favorite albums ATLiens by Outkast.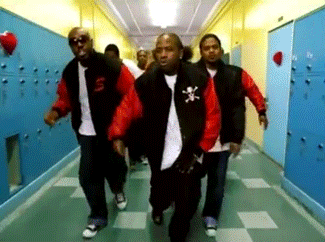 It was the year I had just graduated from The famous Tri-Cities High School, 2003. Everywhere you turned in the streets of Atlanta somebody was blasting Speakerboxx/ The Love Below in their car I was so proud to be from Atlanta and even more proud to have graduated from the same school that Andre and Big Boi had attended. Andre made it very clear at the 1995 Source awards that the South had something to say and boy did they say it! Outkast put Atlanta on the map as well as East Point, GA. The music industry in Atlanta has provided great entertainment for quite a while now. As a Georgia Peach I must say witnessing it all as a young kid has been an experience. It all started at South Fulton Hospital, no I am not a "Grady Baby" as most Atliens claim. For most of my life I have lived in the SWATS as we say, which is Southwest Atlanta.
Growing up in Southwest Atlanta was a great experience. There were all kinds of people that lived in the SWATS. My elementary school, Hapeville Elementary, gave an excellent foundation and was a lot of fun as well. Middle school was different for me, none of my elementary friends went to my middle school so I had to start over and boy was that a challenge! Having my popular older brother there helped a little to adjust. Now High school was my favorite. It was a magnet school so I had to audition to get in the program. Once I received the acceptance letter I was so proud! Just as I thought High school was a breeze. I reunited with some friends from my elementary school as well as middle school.
Coincidently, the hospital I was born in and daycare I went to as an infant was right around the corner from Tri-Cities. I guess one can say I was back where I started. Fast forward to college and graduation and working in corporate America when I started living a full life. I was single and travelling and enjoying life at every turn. I worked a corporate job and did Promos on the side so that I could travel as much as possible and stay afloat with my bills. That is until I dropped everything to move to Boston, MA to live with the love of my life. I was so ready to leave Atlanta and start a new Chapter in my life. Especially, with my significant other, now husband. Boston was great! We lived near the beach so the summer was great but oh boy did winter come quick! As a Georgia Peach I did not know what to do with this cold weather. My skin was confused as well as my hair and nails. My body did a transformation when the winter months came! In Georgia when it snows everything shuts down! No, not in Boston! Silly me was shocked that people went to work when there was 5 inches or more of snow on the ground. Thankfully I was pregnant during the winter and able to stay home but I still had to eat and go buy groceries. I would look at my husband with crazy eyes when he mentioned leaving our apartment. Do we have to?
He would smile at me and bring me my winter boots and coat.
I will say this…. the day that our first son was born was beautiful! It snowed for the first time since I had moved there the day that he was born and I remember looking out the window in aw of all the snow. It made my little heart smile. But this Peach could not take another winter. We planned to move back to Georgia to buy a house in my home state and moved in the middle of the following winter.
Now we live in the cute little neighborhood that I ignored but remembered riding through during my high school years. How I ended up back where I started was not planned at all but due to real estate it was a great choice. I know you are probably thinking what is the point? Well I am back where I started but in a different state of of mind and at another point in life that makes everything around me all so new. A mother of 3 handsome boys that are making friends everyday and little glimpses of my foundation has helped me understand and remember who I am. Sometimes life takes us back where we started for a reason. For me I am back where I started to realize that I still have a long way to go to get where I want and I now understand how much of my foundation has contributed to my life and the future. So stay tuned……